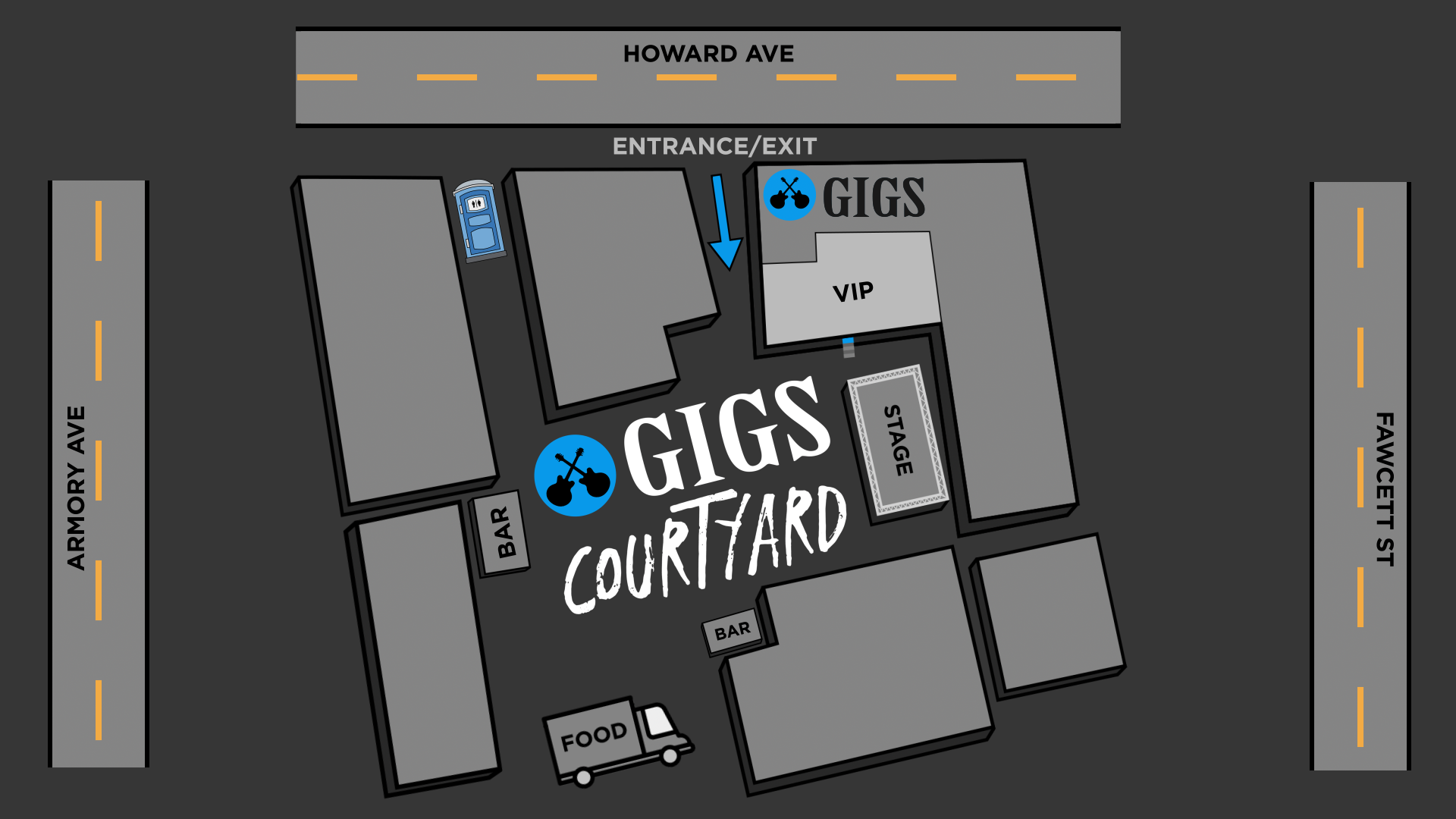 When is GIGS Courtyard open?
GIGS Courtyard is open on select concert dates in the spring and fall.
How can I purchase tickets to a show at GIGS Courtyard?
Tickets are available for purchase online here.
Does GIGS Courtyard have a vaccination policy?
in line with current industry standards, we will require all attendees of GIGS Courtyard to show proof of full vaccination upon entry. When you arrive at the venue, please be prepared to show your vaccine card or a photo of your vaccine card to registration staff in order to show proof of your status as someone who is fully vaccinated. If you have registered for more than one ticket, please make sure that all ticket holders in your party are aware of our policy and are prepared to show their vaccination status. Ticket holders who arrive at the venue without proof of full vaccination will be denied entry without a refund. Our hope is that this policy will allow all guests at GIGS Courtyard to have a safe and enjoyable experience.
Are there different tiers of tickets for shows at GIGS Courtyard?
Yes. General Admission includes unlimited beer, wine, and water with the price of your ticket. VIP Admission includes unlimited beer, wine, and water; a laminated all-access VIP pass; exclusive access to a private indoor open liquor bar, indoor air-conditioned lounge area & restroom, and second & third floor private balconies overlooking the stage.
Will I have access to a liquor bar if I don't purchase a VIP ticket?
Yes. Liquor is available for purchase in General Admission at our cash bars.
Is there food available at GIGS Courtyard?
Yes, there is always food available at GIGS Courtyard. Depending on the event, food will either be available for purchase from a food truck/vendor or will be included in the ticket price.
What if I am a non-drinker? Do I still have to purchase a full price ticket?
We got you. Simply email us at gigscourtyard@gmail.com, and we will send you a discount code.
Is GIGS Courtyard ADA accessible?
Absolutely! General Admission tickets are 100% ADA friendly. VIP Admission grants access to areas of the second and third floors of GIGS and are therefore not ADA accessible. Restrooms are located in the ADA accessible General Admission area.
Can I submit my band to be considered to play a show at GIGS Courtyard?
Sure! You can reach out to us at gigscourtyard@gmail.com and show us what you got!
Is there parking available onsite?
There is no designated parking lot at GIGS Courtyard. We recommend taking a car service to our shows. Stay tuned for more information on local public lots approved by the Town of Kensington.
Does GIGS Courtyard have an age policy?
Yes. Events at GIGS Courtyard are 21+. You must bring your ID with you to enter each event.
Are tickets available onsite?
If a show is not sold out, tickets may be available for purchase onsite via cash or credit card. We will announce ahead of time whether a show is sold out or not.
Is there a drug policy?
Yes. Illegal substances of any kind are not permitted at GIGS Courtyard. Infractions will result in ejection from the venue and possible legal action.
Can I bring my own food & drinks to GIGS Courtyard?
No. Outside food & drinks are prohibited.
Is there seating available at GIGS Courtyard?
GIGS Courtyard is a standing room only venue.
Do you have a refund policy?
Tickets are non-refundable and non-transferable.
Do you have a weather policy?
In case of inclement weather, the show will be rescheduled to a later date. Typically, rain dates are planned for the immediate next day after the scheduled show. If a call is made to reschedule a show, ticket holders will be alerted and their tickets will automatically be transferred to the new date. Refunds are not available for shows rescheduled due to inclement weather.
Are pets allowed at GIGS Courtyard shows?
No, pets are not permitted at GIGS Courtyard (with the exception of service animals).
Where are the restrooms located?
There are portable restrooms outdoors (including at least one ADA accessible unit).